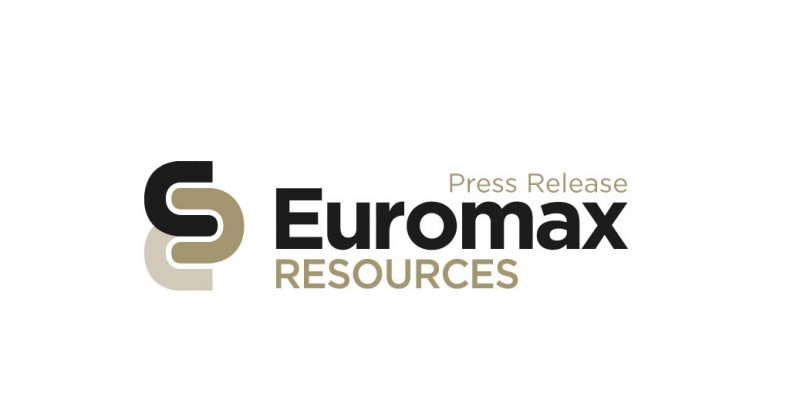 Euromax Resources Ltd., April 26, 2019 (TSX: EOX): Euromax Resources Ltd. (Euromax or the Company) is aware that Solway Investment Group GmbH yesterday issued a press release regarding a proposal relating to the Company, which proposal has been received and considered by the Company.
As set out in the Company's news release of March 22, 2019, the Company has entered into a legally binding private placement financing with one of its current major shareholders, Galena Resource Equities Limited, an entity controlled and managed by Galena Asset Management S.A., which is an affiliate of Trafigura Pte Ltd., for gross proceeds of CAD$9,188,040 (USD$6,900,000) and with two other existing shareholders of the Company for gross proceeds of CAD$1,102,565 (USD$828,000) (collectively, the Transaction).
Closing of the Transaction is subject to the satisfaction of certain conditions, of which the only material outstanding condition is the approval of the Macedonian Commission for Competition (the Macedonia Competition Approval). The Company has applied for the Macedonia Competition Approval and the approval process is currently underway. The Company has no reason to believe that it will not obtain the Macedonia Competition Approval within the time frame previously indicated. The Company will provide an update once the Macedonia Competition Approval has been obtained and the Transaction has closed.
In light of the Transaction, the Company is not further exploring the Solway proposal at this time and does not intend to comment further unless otherwise appropriate or required by law.
About Euromax Resources Ltd.
Euromax is a minerals development company whose corporate strategy is centered on the development of the Ilovica-Shtuka Project, the company's core copper and gold development project located in Macedonia. Euromax, through its local subsidiaries, has been involved in the exploration and development of a number projects in south-eastern Europe since January 2011.