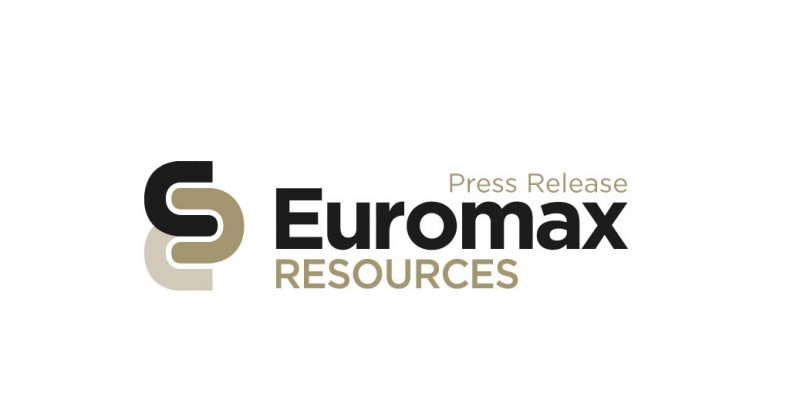 Euromax Resources Ltd. 17 November 2017 (TSX: EOX; OTCQB: EOXFF): ("Euromax" or the "Company") is pleased to announce that Ljupco (Lou) Naumovski has been appointed as a Non-Executive Director of the Company.
Mr. Naumovski, a Canadian Citizen born in Macedonia, is a senior executive with broad multi-disciplinary experience, including general management and business development in gold mining and banking.  Mr. Naumovski also serves as a Non-Executive Director on boards of Amur Minerals Corporation and Trans-Siberian Gold; both companies are listed on the London Stock Exchange AIM market.  Mr. Naumovski is an Honorary Member of the Board of Directors of Macedonia 2025 and serves as a Director of the Canada Eurasia Russia Business Association and the Canadian Executive Service Organisation.
Mr. Naumovski retired from Kinross Gold Corporation in January 2017, where he served for ten years as Vice President and General Director in Moscow, responsible for Kinross' Government relations and new business development in Russia.  Prior to this role, Mr. Naumovski served as Senior Vice President and General Manager at Visa International Service Organisation and, prior to this as a Senior Banker in the Russian Team and also Resident Representative for the for the European Bank of Reconstruction and Development in Moscow.  Mr. Naumovski holds a BA (Honours) in Economics and Political Science from the University of Toronto and an MA in International Relations (majoring in Russian / Soviet affairs) from the Norman Patterson School of International Affairs at Carleton University in Ottawa, Canada.
Concurrently with Mr. Naumovski's appointment, Mr. Patrick Forward will step down from the Company's Board, but will remain in his position as the Company's Chief Operating Officer and a member of the Board's Technical Committee steering the development of Euromax's Ilovica-Shtuka project.
Martyn Konig, Chairman, stated: "On behalf of the Company's board of directors we warmly welcome Lou as a director. As a Macedonian Canadian with extensive experience of both mining and financing, we are sure that he will be a valuable asset to the Company and will contribute greatly towards the successful development of Ilovica-Shtuka."
About Euromax Resources Ltd.
Euromax is focused on building and operating the Ilovica-Shtuka copper-gold project in Macedonia.